Wow by Wojooh The Bath & Body Collection Launch
(Nutrition Tips)
1 year ago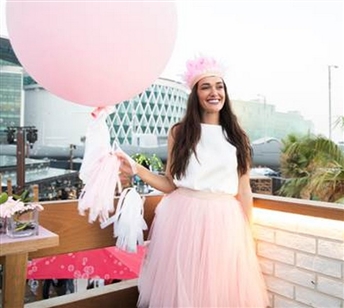 view gallery
WoW by Wojooh hosted a bubbly party on March 28th, in celebration of the new launch of their Bath & Body Collection!
Say hello to our BIGGEST launch of the year - the brand new Bath and Body Collection from Wow by Wojooh! Just when you thought Bath & Body time couldn't get any more fun - this April we launched 36 new products to pamper yourself with!
Wow by Wojooh has just launched a MEGA 36 new products for all you girls to pamper yourself with! Think, bubbles, bubbles - oh and MORE bubbles. The Bath and Body Collection Launch party was attended by top press and influencers in the region on March 28th, including socialites and VIPs. It took place at SOHO Garden DXB while showcasing 36 absolutely amazing products that come in 6 signature scents. Each collection has its very own sparkle: whether you want to cool it, soften it or shimmer it. Within each scent you get 5 amazing products of: shower gel, body lotion, body mist, an edt roll on, and bath pearls - with 1 surprise product.
The launch party hosted several fun activities including 'Fish the Duck' and 'Toss The Ring'. Invitees enjoyed their time across the different playful stations including the 'Glitter Box' at the Shimmer It station, lovely hand massages at the Soften It station, while enjoying the yummy delights of Nitrogen Oxide Icecream and Popcorn at the Cool It station. Not to forget the additional makeup up touches done through the expertise of the Wow by Wojooh Beauty Specialists as well as the hyped up atmosphere and music!
The Cooling Collection: Cool It!
The Cooling Collection comes in 2 scents of Frosted Jasmine and Snow Musk with ingredients of Cotton and Aloe Vera. The surprise products of this collection is our Fresher Than You, Dry Shampoo& Ice Cold, Dry Shampoo. Small, compact and they smell AMAZING this dry shampoo removes oil from the hair and leaves it feeling - so fresh and so clean!
The Softening Collection: Soften It!
The Softening Collection comes in 2 scents of Camelia Blush and Tender Rose with ingredients of Sweet Almond and Vitamin E. The surprise product of this collection is our Precious Me, Body Butter & Sweet Escape, Body Butter. This Body Butter is a thick moisturizer that provides the MAXIMUM in moisture and comfort to the skin!
The Shimmering Collection: Shimmer It!
The Shimmering Collection comes in 2 scents of Amber Aura and Royal Oud with ingredients of Royal Jelly and Argan Oil. The surprise product of this collection is our Hello Halo, Dry Oil & Glow Goals, Dry Oil. The fast absorbing oil dries without an oily finish rather it gives a beautiful glow to the skin that smells AMAZING!
Prices
Bath Pearls: AED 15
Shower Gel: AED 40
Body Lotion: AED 45
Body Mist: AED 40
Body Butter: AED 50
EAU De Toilette: AED 30
Dry Shampoo: AED 35
Dry Oil: AED 60
Pass by Wojooh this April and check out our brand new Wow by Wojooh Bath and Body Collection.
Can't pass by your nearest store? Not to worry - we are open 24/7 online atwww.wojooh.com.
Follow us @wojoohbeauty #wowbywojooh