We are in! TAMANI Marina Hotel accepts the Dubai Fitness Challenge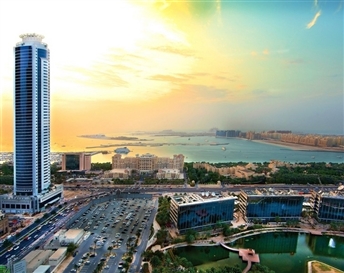 view gallery
TAMANI Marina Hotel & Hotel Apartment in Dubai has announced their participation in the 30 days 'Dubai Fitness Challenge' running from October 26th to November 24th. The initiative launched by His Highness Sheikh Hamdan bin Mohammed bin Rashid Al Maktoum, Crown Prince of Dubai and Chairman of the Executive Council of the Dubai Government encourages people from all walks of life to participate in an action-packed month with events spread across the city aiming to make fitness a lifestyle.
More than 50 employees of TAMANI Marina Hotel will commit 30 minutes of their day to various activities of interest including cycling, zumba, jogging, weight training, swimming and much more. The hotel will be hosting a line-up of free exercise events open to public during the month to keep the morale high of the participants.
To kick-off the initiative, participating members from the hotel will take part in a Dubai Pink Ride in an effort to raise awareness on the importance of breast health in a fun environment. The hotel is also inviting general public to attend and take advantage of the various fun workout sessions scheduled in-house to combat physical inactivity and initiate behavior change.
Walid Al-Awa, General Manager, Tamani Marina Hotel, said, "Incorporating regular exercise in our daily routine is the need of the hour to help combat the rise in obesity and chronic diseases in the workplace. We are ecstatic to be a part of this challenge which serves dual purpose of strengthening team-building and supporting the personal wellbeing of our employees. We do believe that initiatives like these reinforce the will for people who want to get active and encourage others to join the league. I am sure the participants will embrace the challenge and make sure it's legacy is living well beyond the 30 days."