KidZania Dubaienters 'Hall of Fame' winning TripAdvisor's Certificate of Excellence for fifth consecutive year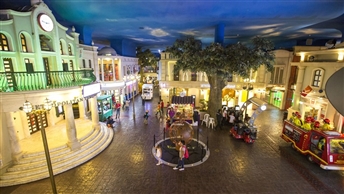 Emaar Entertainment's KidZania® Dubai has further underlined its continued commitment to delivering outstanding service and unique experiences for its visitors by winning the prestigious'TripAdvisor Certificate of Excellence' for the fifth consecutive year.
This also places KidZania® Dubai in the'Hall of Fame', a special category given to businesses that receive the Certificate of Excellence for five years in a row.
In its 2018 edition, 15 KidZania® Metropolises around the world have been recognised with the Certificate of Excellence from TripAdvisor, an accolade that acknowledges great service in the hospitality and leisure industries, based on the reviews given by its users.
The accolade for KidZania® Dubai highlights its promise in offering an interactive powerful edutainment experience blending reality with entertainment that provides an authentic environment for residents, visitors and employees.
Located in Level 2 of The Dubai Mall, KidZania® Dubai is an award-winning children's 'edutainment' destination. The mini-city is built to scale of children, allowing them to perform 'jobs' in an immersive and educational role-play experience.
Donning uniforms which reflect the roles, children had the opportunity to experience over 80/85 professions upon opening, including becoming surgeons, firefighters, chefs, engineers, actors, radio hosts, jewellery designers and many more.
Most recently, KidZania® Dubai introduced three unprecedented virtual experiences for children who can explore real-world professions through virtual reality simulations. These include a surgeon experience offered within the 'hospital' in KidZania® Dubai, avirtual secret agent training program that also includes the climbing wall and the virtual firefighter role next to the 'Fire Station'.