The Kiko Milano WaterFlower Collection: Beauty in Bloom
(What's Up?)
3 months ago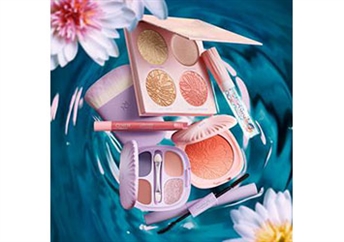 A wardrobe of spring colour, inspired by nature's own palette
Step into a floral dream with the KIKO MILANO Waterflower Collection. Inspired by the beauty of waterflowers and infused with the most delicate of scents, the line up's innovation mixology balances cool, fluid formulas with softly textured powders as light as a petal's caress.
Bathe in a languid pool of colour with looks bearing the rich pink and deep purple of a lotus flower, easily built from a subtle wash to a burst of floral intensity. Eyes, lips, cheeks and nails come to life with the contrasting tones of a water garden, complemented by skincare infused with botanicals. It's time to bring in spring.
For the Skin: floral fresh
Begin by prepping the skin, using products that will revitalise and refresh. Apply the Face Scrub and Face Mask to detox and purify the skin and renew its natural beauty, then use the Flower Lip Oil with real petal specks for lips that feel nourished.
For the Face: playful perfection
Next, create the perfect base, mixing Face Cream with Foundation Pigment Drops and adapting the quantities to suit your skintone and coverage need. Add a couple of drops for a super lightweight BB cream effect, or amp up the dose for full coverage with a comfortable feel. Find your perfect match from a range of eight shades:
Ivory
Porcelain
Light Beige
Honey
Almond
Caramel
Hazelnut
Cocoa
Next, bring a bloom of colour to the face with KIKO MILANO's Blush, pressed finely milled powder with an embossed flower design. Applied to the cheekbones and the high points of the face, it delivers a subtle flush of matte, textured colour in a range of shades:
Peach Tree
Brown Sugar
Pink Shiver
Embrace the change in season with a Bronzer designed to bring out your natural sunkissed tan, available in Warm Honey and Natural Sienna. A formulation combining high payoff bronzing powder and a melanin intensifier for a longlasting tan effect, the Bronzer is the perfect secret weapon for spring.
Complement the colour with a gentle, luminous glow created with the Highlighter Palette in Ray of Light. Bringing soft focus and natural radiance, the Highlighter Palette is the ultimate multitasker - use the 3-in-1 Kabuki Brush to layer accents on brows, temples or cheekbones for a contoured look or apply the lighter shades to the corners of the eyes and cupid's bow for an ethereal touch.
Set the look with the Perfecting Powder, a silky, lightweight pressed powder using highly innovative technology to fix make up but deliver a luminising finish.
For the Eyes: deep definition
Create a look full of natural intensity with the versatile 3-in-1 Mascara, offering a double-sided wand for curl and volume, then accent the eye with a wing of Liquid Eyeliner for high payoff, glossy black definition. Combine with matte and metallic shades from the Eyeshadow Palette for effortless definition, layering taupes and browns from the Piece of My Earth palette for a rich nude effect or pinks and greys from the Sakura Wish palette to create an on-trend rose pewter look.
For the lips: captivating colour
Play with tone and texture, exploring high shine and deep matte lip looks in rich reds, perfect pinks and cute corals.
Choose the Vinyl Lip Lacquer for pure, creamy colour with strong payoff as well as a super glossy, high shine effect in a range of floral hues, and match each Vinyl Lip Lacquer with a Lip Pencil in the same shade to accent the contours of the lip:
Silky Sand
Rose Dreams
Think Orchid
Touch Of Coral
Enjoy The Red
Sweet Paprika
Or for the opposite effect, reach for the Ombre Duo Lipstick for an innovative dual matte and metallic shade pairing, combining tonal colours and textures that perfectly complement one another:
Naked Soul
A Kind Of Red
Miss Tangerine
For the nails: floral fingertips
Finish the look with Nail Lacquer in three vibrant shades:
Kiss The Sky
Watermelon Field
Mauve Infusion