RIVA launches a new beachfront breakfast menu, created in partnership with the RIPE Organic Company
(What's Up?)
5 months ago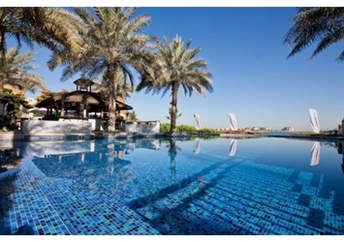 On March 1st, 2019, RIVA Ristorante launches a flourishing partnership with the RIPE Organic Company, as part of a brand new breakfast menu. The beachside favourite has created a new menu filled with delicious organic and nutritious options, available from 7:30am until 11am every day, extended to 1pm on weekends. With each and every item on the menu made within the venue freshness is guaranteed at the chic beach spot.
For the healthy
Health conscious diners can raise their freshly blended smoothies to celebrate all things nutritious. Highlights include the 'Super Berry Granola', the 'RIVA Benedict', a homemade spin on the well-known dish as well as the 'Skinny Omlette', made using bio-spinach and feta cheese.
Specially tailored 'Spirulina boosters', utilise the nutrient rich ingredient to further enhance health benefits, while freshly squeezed juices and smoothies, such as the 'Energizer', an organic concoction of honey, almond milk and yogurt, as well as the 'Get Up', a combination of tropical fruit and greens - promise to lift energy levels.
For the vegans
Its veganary all year round with the beach clubs vegan-friendly options, from the piquant 'Power Quinoa Salad', to the inspired 'RIVA Super Bowl', comprising of avocado, boiled eggs, quinoa and fresh tomatoes. The 'Coco-Mango Chia Pudding', infused with an organic mango sauce and dusted with coconut flakes, is ideal for those who want to incorporate a sweet note into their healthy breakfast.
For the indulgent
Those who indulge in cheat day everyday can sample an array of goodies from the 'Banana Pancakes' served with a salted caramel sauce and 'Wholegrain French Toast', drizzled with maple syrup, to the 'RIVA Waffle', accompanied by sweet cream, fresh berries and Nutella.
For those who appreciate the classics
Long-standing signature favourites including RIVA's famous  'Eggs Benedict', and 'RIVA English breakfast', offering a spread of sausages, eggs, baked beans, tomatoes, hashbrowns and homemade bread can still be enjoyed to kick start the day the right way.
For those who can't wait until brunch
The Mimosa Breakfast is ideal for those looking for breakfast with an added kick. Priced at just AED 149, weekenders can savour one of any of the delicious breakfast items, alongside unlimited glasses of the popular beverage every Saturday, from 11am until 1pm.
Guests can opt to experience the all new breakfast menu, with the addition of a day-beach club pass for just AED 100, whereby the fun doesn't stop after the food - as they can make the most of the chilled out atmosphere, private beach access and the chance to lounge besides the pool, and soak up the sunshine whole overlooking the pristine Palm views.
FACT BOX
Offer: Breakfast at RIVA
Venue: RIVA Ristorante
Location: Building 8, The Shoreline, Palm Jumeirah, Dubai
Date: Daily
Time: 7:30AM - 11:00AM (Extended to 1PM on weekends
Price: A la carte menu available
Offer: Mimosa Breakfast
Venue: RIVA Ristorante
Location: Building 8, The Shoreline, Palm Jumeirah, Dubai
Date: Saturdays
Time: 11AM- 1PM
Price: AED 149
Details: Guests can opt for any breakfast item, along with unlimited mimosas for 2 hours