Feed your soul at Millennium Resort Salalah's Zanta Spa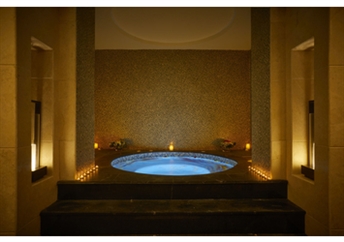 Millennium Resort Salalah is a four-star resort located in the area of Al Saada in Northern Salalah. It has made a mark in the hospitality industry through its brilliant services and continues to do so through its 'Zanta Spa,' offering a blend of holistic treatments.
Zanta, meaning calm and serene in Sanskrit, stands true to its name and offers special massages and facial treatments that will not only replenish your body but will also rejuvenate your skin and embrace nature at the same time. Guests can experience authentic spa treatments at the Zanta Spa across five luxurious therapy rooms, with three rooms dedicated for women and two rooms for men. These therapy cocoons are filled with a contemporary splendor and a serene aura to complement the enchanting spa experience.
Zanta Spa treatments are beautifully curated into Massages, Body Treatments, Pevonia spa menu selection, Spa packages, The Harmony day (Hammams) and Beauty Services. These spa rooms embrace magnificent hammam rooms, jacuzzi steam & sauna, to elevate your happy hormones and take you into a state of tranquility.
Zanta Spa comprises of 11 different kinds of mesmerizing massages along with a special option for pregnant women; five types of irresistible Body treatments; four kinds of Pevonia spa selection; four varieties of soulful Spa Packages; two kinds of holistic Hammams; and 29 varieties of bountiful beauty services for both men and women. Each of these experiences last from 15 minutes to four hours depending on the treatment a guest chooses.
Enumerating on the elusive spa treatments, Mr. Cholarajan Srinivasan, Spa Manager, "Experience at our Zanta Spa is synonymous to serenity and tranquility that will give our guests a holistic experience. Our signature treatments are a "must try" as they are intended to cast a long-lasting rejuvenating effect on our guests."
"Our special massages and treatments that include herbal and aromatherapy will not only leave you deeply relaxed and revitalized, but the exotic fragrance will surely transport our guests into a different world altogether. At Millennium Resort Salalah, we are driven to offer our guests an out of the world experience and wit Zanta Spa we aim to do just that," he added further.
Zanta Spa is one of a kind spa offering a unique journey, which unites spirit with treatments that go beyond the ordinary. Guests are welcome to experience the ultimate pampering of their body and soul, with our unique range of massages & treatments at Zanta Spa Salalah.
For bookings and reservations including terms and conditions, please visit https://www.millenniumhotels.com/en/salalah/millennium-resort-salalah/ or call +968 2322 2111 or email reservations.mrs@millenniumhotels.com.