Enjoy A Breezy Terrace Experience at Babel La Mer
(What's Up?)
8 months ago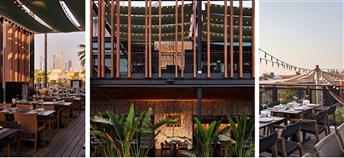 As the weather begins cooling down, Babel welcomes its guests to its beautiful waterfront property at La Mer, featuring a charmingly spacious terrace for an enjoyable outdoor experience. Whether it's a delectable afternoon lunch, or an intimate dinner with family and friends, Babel's indoor and outdoor settings create the perfect ambience for a relaxed and leisurely Lebanese dining experience.
The outdoor sections extend on two levels, with the spacious terrace creating a tranquil atmosphere for guests to indulge in Babel's exquisite seafood menu with progressive twists on savoury Lebanese classics. Using the highest quality ingredients, guests are treated to an extensive menu of cosmopolitan dishes such as grilled Bobby Vel Filet, Chicken Breast,Lobster and Sultan Ibrahim. After your spread, sit back and relax with delicious desserts, grapes and hops, and end it with an after-meal shisha for a perfect ending.
Minimalist chic décor, twinkly lights and a backdrop of far-off skyscrapers against the night sky; Babel's terrace is the perfect place to watch the sun set as you unwind after a busy day. If you prefer to stay inside, the highlight of the room is the seafood bar with sandstone walls etched with ancient Mesopotamian writings which lend the room a dramatic but welcoming atmosphere - perfect for experiencing Babel's diverse dining options.
Call +97144190220 to book your table now.
Location: SA30, La Mer Dubai
Telephone: +97144190220
Opening times: Sunday to Saturday: 12:00 PM till 12:00 AM
Facebook @BabelLaMer
Instagram @BabelUAE.