DUBAI FESTIVAL CITY MALL WELCOMES DUBAI FITNESS CHALLENGE'S OPENING CARNIVAL
(What's Up?)
4 months ago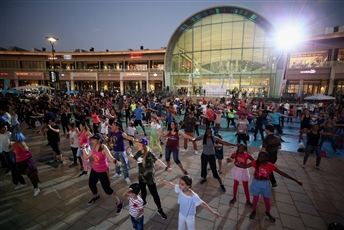 view gallery
Over two consecutive days, Dubai Festival City Mall will be home to the weekend opening carnival, curated for fitness enthusiasts across the city of Dubai, on Friday 26th and Saturday 27th October. Set to entice all audiences, families and youngsters, with numerous fitness activities, a grand firework display and a tailored-made special IMAGINE show for the opening ceremony of the city's most anticipated events, the Dubai Fitness Challenge.
The special IMAGINE show will take place on both days as shoppers will also get a chance to see the grand firework display in celebration of the weekend opening on Friday the 26th of October right after the special IMAGINE show at 11 PM.
Split out into unique zones, including the main stage, the children's fitness area, indoor activities, the helipad zones, the health and wellbeing zone, a ladies-only gym and the 30X30 challenge, numerous fitness events will be taking place across the full Festival Bay area.
Shoppers visiting the Mall during the weekend will find plenty of options to choose from, including activities hosted by fitness professionals and continuous live stage shows with instant prizes to be won.
A schedule of activities during the weekend include:
Activity

Location

Date

Time

 

Special IMAGINE show

 

Main Stage, Festival Bay, Dubai Festival City Mall

 

Friday 26 October

 

Saturday 27 October

11 PM

 

8 PM

Grand Firework Display

 

Main Stage, Festival Bay, Dubai Festival City Mall

 

 

 

Friday 26 October

 

11 PM (right after IMAGINE show)

 

Outdoor workout sessions including jump rope, TRX, Cycling, and boot camps

 

Festival Bay, Dubai Festival City Mall

 

Friday 26 October

 

Saturday 27 October

 

 

3 PM - 11 PM

 

1 PM - 8 PM

 

Ladies Only Pavilion

Workout sessions including Zumba, boxing, yoga, body weight and Pilates

 

Indoors (Ladies Pavilion), Dubai Festival City Mall

 

Friday 26 October

 

Saturday 27 October

 

3 PM - 11 PM

 

1 PM - 8 PM

Health and Wellbeing Sessions

Festival Bay, Dubai Festival City Mall

 

Friday 26 October

 

Saturday 27 October

 

3 PM - 11 PM

 

1 PM - 8 PM

 

Indoor (The Immersive Trip) By Les Mills

 

RPM, Sprint and the TRIP Virtual

 

Festival Square, Dubai Festival City Mall

 

Friday 26 October

 

Saturday 27 October

 

3 PM - 11 PM

 

1 PM - 8 PM

Helipad Yoga Sessions

Helipads, Festival Bay, Dubai Festival City Mall

 

Friday 26 October

 

Saturday 27 October

 

3 PM - 11 PM

 

1 PM - 8 PM

 

Kids' Fitness

 

(Including Bootcamp, Yoga, Zumba and Snookball)

 

Festival Bay, Dubai Festival City Mall

 

Friday 26 October

 

Saturday 27 October

 

3 PM - 11 PM

 

1 PM - 8 PM